Sensational Rijeka Carnival 🎭🎊
The carnival awaits you!
8-9 February 2020
Contact or follow us for more information:
Details
FEB. 8. (sat.) – departure at dawn
Boarding Points
BUDAPEST, Blaha L. square (01.00) +along M6
PÉCS, Árkád south enterance (~04.00)
Keresztúr rest, 31th km, MOL petrol station (~01.30)
Újváros rest, 71th km (~02.00)
Paks rest, 108th km (~02.30)
Bonyhád, MOL petrol station (~03.30)
Szentlőrinc, route 6, Jókai Mór st. 4 (~04.20)
Szigetvár, train station (~04.35)
Get-off points on the way back.
3 days before departure
The name and availbilities of each tour guide and the places and dates of the meetings will be sent to you via e-mail! Always have a look in the "spam" and other folders as well when looking for said e-mail!
Travel in a group!
Group discounts starting from 6 people: special needs and dates for groups, organisers, universities, dorms, student organizations! With at least 40 people, departure can be managed from another city!
Travel for free as an organiser!
Join as a group-organiser, get the band together and after every 15 people you get 1 spot for free! Easy! :) info@diakutak.com ("organzier")
FEB. 8. (sat.) – sightseeing or all day freetime
In the morning
We'll high-five the sea breeze and the Adrian mermaid, we'll explore 2020 Europe's Cultural Capital, the Austro-Hungarian Monarchy's harbour city: Rijeka, also known as its original name: Fiume by individual or common walking.
Especially spectacular during the carneval, it is harmful to skip it, as well, we'll head to the downtown after the harbour, where we won't lack a good mood, nor some fun. :)
We'll pay our respects at the famous Saint Vitus Catedral. It isn't arguable that instead of wine,we'll be drinking Ožujsko while getting to know the Corso – the most representative pedestrian street of Rijeka.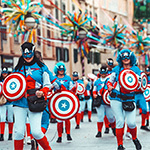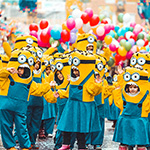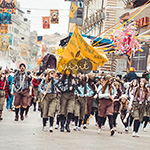 FEB. 8. (sat.) – Children's Carnival Parade, snowboard competition, party, good mood's a guarantee :)
From 13.00
Children's Carnival Parade –where people dress up in most unique costumes; known heroes will leave us speechless, hence we could party with Captain America or Super Mario. :)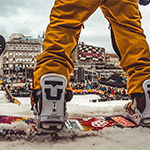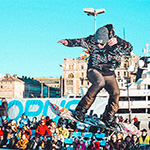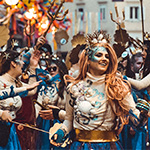 From 14.00
International snowboard competition
in a special place, on the beach: native and international snowboard athletes will be having a breathtakingly spectacular event to compete their talents. Awarding ceremony, concerts and a musical afterparty will crown the event, gathering us closer.
Masked ball from 20
Party from 21
Heading home between 23 and midnight approximately.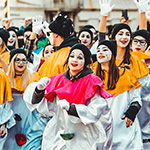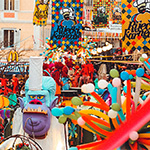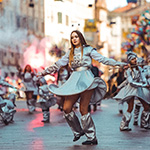 FEB. 9. (sun.)
Participation fee, pocket money